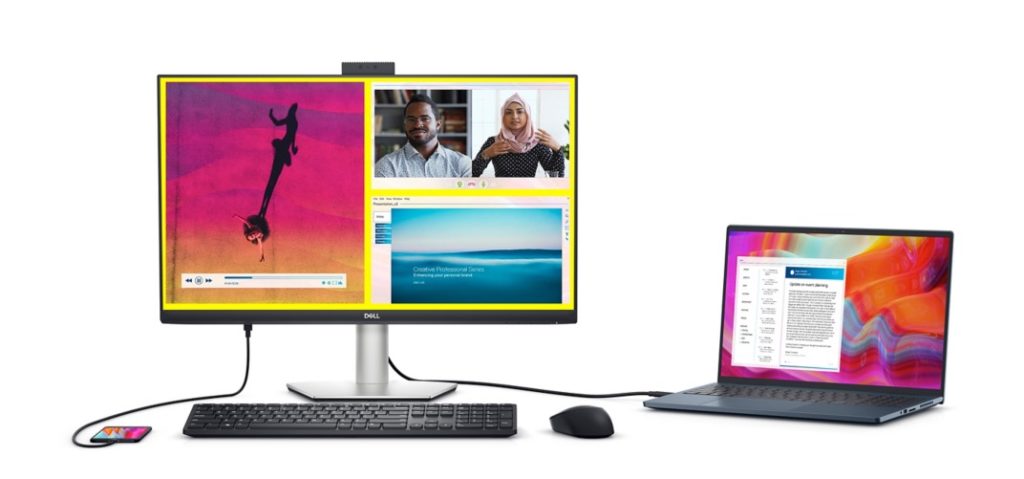 I decided to bite the bullet and buy a second external monitor. My first choice, just buying the same monitor I already had was not an option thanks to supply chain issues in Los Angeles. So I went looking for an alternative. I wanted to get something that looked similar to my existing external monitor, so I didn't look too far outside of Dell monitors since that's what I already have.
I came upon the Dell S2722DZ Video Conferencing Monitor ( ← affiliate link). At first, I wrote it off as being too expensive. And it was. After-tax the monitor was about $500 (don't tell my wife). That's a lot of money for a monitor. But in the end, I decided it was worth it. Here's why:
1. Right Size & Resolution
I wanted a 27" monitor with 2k or QHD resolution. If I was going to buy an extra monitor, I wasn't going to waste my time on a 20" or 24" and spend the next 5 years wishing I'd gone with a 27" screen. Same with the resolution. It's getting better, not worse.
Even buying a 2k monitor could be said to be investing in outdated technology. But the two 4k monitors available from Dell on Amazon were not height adjustable and did not have the USB-C display port connection that I wanted (more on this below).
2. USB-C Connection Port
If you're a Macbook user with the newer USB-C style ports, this monitor is a match made in computer heaven. The USB-C connection not only provides visual and audio, but it also supplies POWER to your Macbook. This was a major selling point for two key reasons:
My power strip is full. There is only 1 outlet left and accessing it was going to be difficult due to some of the oddly shaped plugs. Thanks to the power from the monitor going into the Macbook, I could remove the Macbook plug from the power strip.
With the Macbook power cord no longer needed, I could wrap it up and pack it into my Laptop bag! One less thing to pack and no more crawling under the desk every time I need to leave my office and bring my laptop for work. Which is kinda the whole point of the digital nomad lifestyle!
3. USB Charging Port
This monitor has a USB charging port on the bottom left-hand side. This is really convenient for charging all the things that need charging all the time. Particularly my phone. Which sits where all day long? Oh yeah! On my left! Right by the USB charging port!
4. Audio Line Out
With HDMI cables, its not uncommon for monitors to have audio out ports these days. The last external monitor I bought had one. Regardless, just because my old monitor has it doesn't mean I don't want my new monitor to have as well! It's a feature I've grown to appreciate having, and it's something I was expecting to have in my new monitor.
5. Eyes – ComfortView Plus
While "ComfortView Plus" sounds like some corporate sales gimmick, and perhaps truly is, if you've suffered from computer eye strain like I have, you'll take all the help you can get. I went through a time when looking at a screen for just 30-minutes would trigger a splitting headache and needles in my eyes.
I went to the eye doctor and they suggested breaks from the screen. Not an ideal solution when one makes a living from looking at a screen. However he gave me a low-level prescription to help reduce eye fatigue and when I purchased glasses from Zenni Optical, I added the "blue light blocking" filter option. I also lowered the brightness on my monitor.
While the two steps above eliminated my eye strain problems, I'm still happy that the S2722DZ monitor has built-in technology to make looking at the screen easier on my eyes.
6. Built-in (hidden) Camera
I wasn't looking for a monitor with a built-in camera, but a hidden "pop-up" camera is pretty cool! Can't deny that. Being able to "hide" the camera is a privacy feature important to a lot of people.
But this camera deserves more credit than I initially gave it. My plan was to use both monitors and close my laptop altogether. I hadn't considered this would disable my Macbook camera which I very often use for virtual meetings.
So this little pop-up camera ended up being a vitally important feature. Without it, I would have been looking at external webcams, so while this monitor was more than I was looking to spend, I could subtract the cost of a webcam off the price.
7. Built-in Speakers / Microphone
These were not features I was looking for. I already have external speakers and a microphone. That said, you might not. It's nice that the monitor offers these features, however, the sound quality of the speakers is nothing to get excited about. Better than working in silence though!
8. Ease of Setup
This is something I had to experience to appreciate. This monitor came in thoughtful, efficient, and protective packaging. It's a good thing too because the shipping box arrived severely damaged. Probably because it was ridiculously oversized. My kids appreciated the excellent fort-building material. Thank you for the box, Mr. Bezos.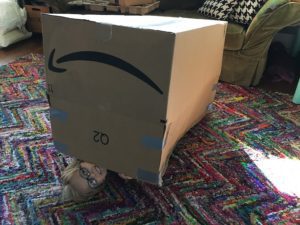 The monitor stand screws together with a single screw, but it's solid. No tools are required. There is a little tab used to turn the screw, and once done the tab folds down and the stand is ready. The next step is to mount the monitor into a super handy bracket. It's easy to remove from the bracket by lifting a good-sized handle.
While the packaging and initial setup is not something I'd put any thought into when making my purchasing decision, Dell clearly has. Based on how well packed, and how easy the setup was, I imagine an engineer at Dell put a considerable amount of thought into it. And if he/she/they ever read this I just want to say, "Hey! Nice work!"
A Great Monitor for Macbook Users
If you're a work-from-home Macbook user, this monitor was essentially made for you. It's got a ton of great features packed into one convenient package, especially if you're conducting a lot of virtual meetings.
Kudos to Dell for really putting a lot of thought and consideration into every aspect of this monitor. When I think of this monitor, the Steve Jobs quote "People don't know what they want until you show it to them" comes to mind. I think that's definitely the case here. Dell, at least for me, knew I needed that camera before I did. I didn't go looking for a monitor with a USB charging port, but once I saw it, I realized how convenient it would be. Five stars for the Dell S2722DZ!
Dell S2722DZ Assembly Instructions: