By: Chad Lawie, Founder, WP Harbor
Updated February 11th, 2023
Understanding Search Engine Optimization
The worst case for Google is a person who doesn't find what they are searching for. If that happens they go look on Facebook or Reddit or some other platform.
If you provide the information people are searching for, Google will put you at the top of the search results, because providing information is the whole point of Google's business.
Getting a website to rank involves many factors (upwards of 200) but they really fall into just three categories, all of which have been confirmed directly by Google.
They are:
When performing an SEO review, these are the areas we are going to be looking at. It's important to know that each of these areas (content, speed, and inbound links) are three separate disciplines within SEO, and much can be written about each topic individually.
The purpose of this page is to give you a simplified overview of all three areas so you can conduct a basic SEO review of your own website.
SECRET KEY TO SEO
At the bottom of this page, I'll reveal the secret to SEO. No kidding. Scroll down if you don't believe me.
Getting Started
The first thing to do is open the website and take a good look over the content. While doing so take note of the site's performance. Does it load fast or slow? Are there any issues or errors as you click links? Does the site look good? Do any questions come to mind that isn't answered by content available on the site (missing content)?
Quality Content
When reviewing web content for quality, it's vitally important to put yourself in the customer's shoes, because Google is trying to provide the customer with whatever it is they are looking for, a product, a service, the answer to a question, etc.
Quality content is first and foremost about creating content for human consumption, the actual words, images, and other content visitors see on your website. And secondly, you want to ensure that Google (and other search engines) can access that content.
Missing Pages
Google cannot rank what does not exist. Yes, it's really that simple. Put yourself in the customer's shoes and look for missing pages, such as about pages, FAQ pages, service pages, product pages, etc.
Missing Content
Remember, Google wants to provide users with a good experience, and that includes finding the information they are looking for. So put yourself in the customer's shoes and ask "what could add value?" including images, videos, lists, information, etc.
Poor Formatting
Remember, Google wants users to have a good experience, and people don't like to read poorly formatted or confusing pages. Your content is well-formatted, including empty space between paragraphs, easily distinguishable headings,
Site Map
Check for a sitemap in the footer or by adding "/sitemap" to the site URL. Sitemaps help Google site crawlers index website content.
Page Title Tags
Title tags between 20 and 70 characters including spaces. Make sure each page has a unique title and use your most important keywords.
Missing Meta Descriptions
Meta descriptions allow you to influence how your web pages are described and displayed in search results. A good description acts as a potential organic advertisement and encourages the viewer to click through to your site.
Headings
Each page should have one, and only one, <H1> tag. Use keywords in your headings with your most important keywords in the top level, and be sure to maintain the <H1> to <H6> hierarchy.
Alt Attributes
Alternative text allows you to add a description to an image. Since search engine crawlers cannot see images, they rely on alternative text attributes to determine relevance to a search query. Alternative text also helps makes an image more likely to appear in a Google image search and is used by screen readers to provide context for visually impaired users. Try to keep your alternative text to a simple, one-sentence description of what's in the image.
Internal Links
Links pass value from one page to another. This value is called 'link juice'. A page's link juice is split between all the links on that page so lots of unnecessary links on a page will dilute the value attributed to each link. There's no exact number of links to include on a page but the best practice is to keep it under 200.
Mobile Friendliness
Mobile-friendly pages make it easy for users to complete objectives and common tasks and use a design or template that is consistent across all devices (uses responsive web design). You can test your website here: https://search.google.com/test/mobile-friendly
Schema Markup
Schema Markup is used to add meaning to the information on a webpage in a way that is readable by machines (Google).
SSL Certificate
Most websites already have an SSL certificate, but it's worth checking. Back in 2014, Google announced it would start giving search preference to sites with SSL (secure/encrypted connections). You can look for a padlock next to your website URL or test your site here.
Robots .txt & Tags
The robots.txt file and robots tag instructs search bots to index (or not to index) a website (in the case of robots.txt) or web page (in the case of robots tags). When a website is being built, developers will often turn off search indexing and sometimes forget to turn it back.
Performance
Remember, Google wants users to have a good experience, and the worst case is that a person doesn't find what they are searching for, so they go somewhere else.
Having great content is vitally important to ranking well, but great content doesn't help anyone if it takes forever to load.
People want websites that load fast. If you provide that, Google is more likely to present your website to searchers.
Site speed depends on high-quality WordPress hosting and clean website code.
Speed Check
Runs a speed test at gtmetrix.com. It's best to do this logged in so there is a baseline for speed. What is the score? Is it good or bad? GT Metrix will give you suggestions for improving your website's speed performance.
Google Lighthouse
Run a Google Lighthouse report to evaluate your site performance and SEO. To do this:
Right-click on your website home page
Select "inspect"
Select the "light house" tab
Click "analyze"
Google will generate a report telling you what you should fix to improve its performance.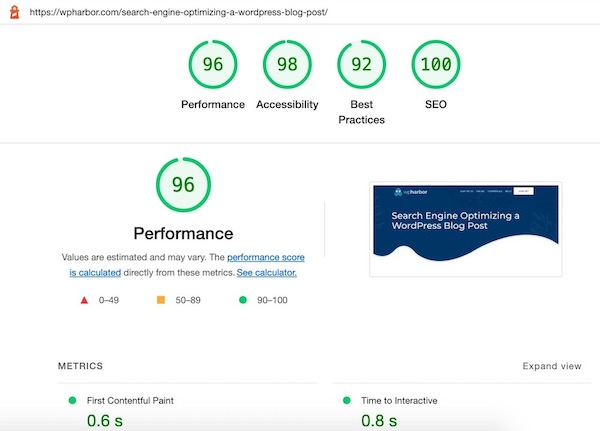 Image Optimization
People often add oversized images to websites. Large image files take longer to download. Not only should images be sized properly, but they should be losslessly compressed using a tool like https://kraken.io/. Images can also be compressed using WordPress plugins like Smush Pro (included free with Harbor Care).
Code Minification
Minifying code can help it load faster. Minification can be accomplished using a premium speed optimization plugin like WP Rocket (included free with Harbor Care).
Caching Plugin
Using a caching plugin like WP Rocket can help speed up a website, but the best option is to integrate with server-level caching. This requires a special hosting configuration like the Litespeed Web Server provided by Harbor Care.
Content Delivery Network (CDN)
Using a free Content Delivery Network like CloudFlare is an easy way to score some performance points. A CDN stores a copy of your site on servers located around the world, allowing users to access a cached version of your site just a little bit faster.
Inbound Links
Inbound links have been a cornerstone of Google's Search algorithm since the beginning. Today there are upwards of 200 search ranking factors, but inbound links still play a big part and continue to be a big factor for the foreseeable future.
Inbound links are more of a consideration for National SEO and highly competitive markets like New York City or Los Angeles.
For most Local Search efforts, having above-average content and performance with a minimum inbound link profile will be enough to outrank most of the competition.
Many SEO guides talk about "follow" and "no-follow" link types. While this is relevant, it goes beyond what is necessary for most local businesses. Regardless of what anyone says, a link is a link and Google recognizes them.
Local Directories
Having a consistent Name, Address, and Phone number (NAP) across local directories (like Yellow Pages, Yelp, and Foursquare) is an important factor for local map search results. Local directories also tend to provide an inbound link.
You can run a local directories report for your business here.
Google My Business / Google Profile
You to create a search profile for your business directly through Google. This is a really easy way to pass information directly to Google, including information about services, service areas, products, hours of operation, etc. This information is used to populate Google's Map results. Complete the Google Profile with relevant and high-quality information about your business.
Other Links
High-quality inbound links are difficult to acquire, especially for local businesses. For that reason, we tend not to focus on them outside of about 30-40 local directories.
However, with a little creative thought, it's not at all difficult to find places where you can post a link. However, it's vitally important that links are natural, organic, and of high quality.
As I mentioned in the intro, inbound links have always been a cornerstone of Google's Search algorithm, which means it was also one of the earliest methods of "black hat" SEO tactics. If you "spam" the internet with links or purchase inbound links, you will likely be penalized by Google and removed from search results.
You want to look for organic opportunities for links, such as YouTube video descriptions, Chamber of Commerce Directories, Business Associations, Social media, Local news media, etc.
The most important thing to remember when building links is to stay well within the "safe zone" of legitimate, natural inbound links.
Secret Key To SEO
All that stuff I mentioned above is super important, but pretty meaningless if you don't do this one thing: Track Your SERPs!
SERPs stands for Search Engine Ranking Position. It's the REASON for doing all this SEO stuff. So your website ranks in a higher position on Google for specific keywords.
If you don't set a goal, how will you measure progress? This sounds obvious and basic but so many amateurs and even professionals miss this step.
For one thing, there are many kinds of SEO professionals out there, from Content Creators to Web Developers to Link Builders. Each discipline approaches SEO from a different angle and will measure results in a different way because there are different reasons for doing SEO.
For a new business, just getting your website to show up when someone Googles your business name is an SEO win. Some businesses just want to get a lot of traffic.
But local businesses typically want to rank for specific keywords that are related to their product or service.
Tracking SERPs
Create a list of 5-20 keywords that are relevant to your business that you want to rank for. Once you've created your list, start tracking your website's rank in search results for those keywords using a tool like SEM Rush or ahrefs.
Extra Bonus!!
I'm really working on my long-form sales copy today, but this is legit. Check out woorank.com.
It will scan your website and produce a really handy, user-friendly SEO review. It's one of my favorite SEO tools, it helped me learn a ton about SEO, and my staff loves it.
Unfortunately, it's not free, but if you enter your name and email below or email [email protected] and we'll be happy to generate a report for you.