We consider keeping your site safe our responsibility. If your site is hacked on our watch our incredible team of WordPress experts will quickly and carefully remove the malware for you. Free of charge. No questions asked.
Here are the details on how we keep your site safe:
WordPress core files are locked down
One of the great things about WordPress is that everything is built around the same core software. This allows plugin and theme authors to create awesome tools and designs that can be used by anybody running WordPress.
One of the not-so-great things about WordPress is that the common core used by millions of sites can allow the quick spread of infection and damage.
On our servers, nobody can overwrite your WordPress core files.
Everything in your WordPress install is locked down tight, aside from your custom content. Does somebody want to edit your wp-config.php file in order peddle creepy products on your site? Not on our watch!
It is worth noting that locking down core files means you can't edit them either. This is a good thing because it's best practice to leave core files alone as they'll get swapped out in WordPress updates. You don't want hard work getting wiped out every time WordPress is updated (quite often). If there are files like wp-config.php that you'd like to make changes to, just let our team know and we'll make those for you! Unlike manual edits, these will carry over from update to update.
Intelligent IP blocking
Intelligent IP address blocking detects intruders and blocks them across all sites on our servers within seconds.
We monitor popular points of entry for hackers and immediately lock out any IP address trying to get through. These points include:
Failed SSH Access Attempts
Failed WordPress Login Attempts
Spam WordPress Comments
XMLRPC Connections (which we fully block by default)
We use a variety of techniques to block traffic starting with preventing known malicious IP addresses from opening a session with the server, which is a very severe and immediate action. Another softer layer of security we provide is our proprietary caching ban. This method detects "banned" access attempts and displays a cached page to the visitor stating that their connection has been banned. This method stops the connection at the highest layer of our servers software stack and utilizes the fewest server resources while still presenting a user-friendly response.
In the rare occasion that a client has forgotten their password and keeps trying dozens of time in just a few minutes, they'll see a ban page but will be presented with easy, on-screen instructions to get their IP un-banned.
Since banned IP information is shared across sites, we develop a kind of "herd immunity" to malicious actors in real time as the attacks come in. So your site's protected from hackers before they even try to attack your site.
Insecure passwords? Not on our watch.
Although it may not seem like a big deal, having hard-to-guess username and passwords really goes a long way on WordPress. Due to the uniform structure of WordPress, a lot of web bots will crawl across websites, simply appending a /wp-admin to the domain name. If the page loads, the bot will start trying username and password combos starting with some of the most common insecure passwords. So if you have a user named admin and a password of password1234, you're at a pretty high risk of getting hacked.
That's why we go to great lengths to ensure that our customers use strong passwords. If you try to create a new password that doesn't make the cut, we'll let you know.
Limited Login Attempts
One of the things we do to protect customers from malicious attacks is limit the number of login attempts from a single IP address to three attempts within twenty minutes. If you type the wrong password three times, you must wait to try again.
This goes a long way to deter would-be attackers, as they can no longer just try hundreds or thousands of passwords and try to brute force your account.
Limit Login Attempts works at an IP address level, so if you have multiple users trying to sign in to your site on the same network, they can easily wind up locking each other out, since Limit Login Attempts will only view them as a single user and will count each of their individual failed logins against the overall total allowed, and lock all users out if the limit is exceeded.
If you are locked out from too many failed login attempts, just send us an email and we will clear your IP address so you can get back in.
Automatic WordPress updates
In order to prevent outsiders meddling with your stuff, we make sure your site is running the latest and greatest version of WordPress. These updates often include security patches, which close any doors and windows that hackers may have found in previous versions. We make these updates for you automatically and usually happen within a few days of their release.
Malware Monitoring
We pride ourselves on keeping the bad guys out of your site's files and database through the preventative security measures mentioned above. That being said, malware prevention is an ongoing cat and mouse game where systems have to react and adapt to the ever-changing security gaps introduced by third-party plugins, third-party themes, or weak passwords.
In the event that you find your site has been compromised by a plugin or theme vulnerability, We can jump in right away and get to work cleaning up the infection. We'll also notify you of our progress along the way.
If we learn of a wide-spread malware vulnerability within a particular plugin, we will update the plugin or disable it and notify you of the issue.
A red carpet service for organizations who need all technical aspects of their website covered. Focus on your business, we'll cover the website.
We want to make sure all of our customers are set up for success. Unfortunately, we can't provide full-blown search engine optimization for $47/month. But we can cover some essentials. They are:
Installing Google Analytics
Setting up Google Search Console
Submitting an XML sitemap to Google
Optimizing your site to load as fast as possible
Ensuring your site is has an SSL certificate enabled
To read more about this, click here.
Site speed and load time factor into everything from search engine optimization, to bounce rate, and conversions. It might be something you never thought much about before. It's one of those things we love to think about so you don't have to! Click here to learn how we make your site faster. 
All clients have access to our suite of premium plugins. These are the most commonly needed plugins for any business or organization and provide the ability for our clients to:
Accept credit cards payments
Create Online Forms, Applications, and Capture Electronic Signatures
Integrate with Facebook, Instagram, and more
Event Calendars
A/B Split test lead capture forms
Click here for full details on the premium plugins included with our service.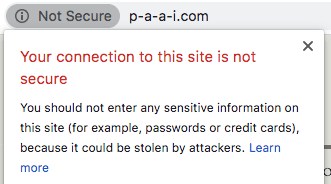 An SSL certificate creates an encrypted connection between your website and the user who is accessing it. In the past, only websites processing credit card information were required to have an SSL certificate, and technically, that's still the case.
However, Google has been pushing hard for all websites to have an SSL certificate and in 2014 they announced they would be giving preference in search results to websites with an SSL installed.
Next, in 2017 Google announced they would be flagging websites without an SSL as "Not Secure" and Firefox followed suite.
We install an SSL certificate and verify it is working correctly on all websites that we manage. Learn more about how we protect your website here. 
We set up your website with Google Analytics and Google Search console. This is not only important data to collect, but connecting your website to Search Console (and submitting a site map, which we'll also take care of for you) falls under Search Engine Optimization best practices.
Most web hosting companies consider it their job to provide hosting space, and that's it. Whether your website is actually up and running properly is not their job. They just provide the hosting space. We actively monitor your website to make sure it's up and running. And if it goes down. We fix it. Learn more here. 
✅ Plugin/Theme/WP Updates
Plugins, Theme, and WordPress core updates occur periodically and are required to keep your site running well and secure. Failing to make available updates can cause conflicts and leave your site open to hackers and other security threats. For this reason, we update themes and plugins twice a month as part of our service to you! Learn more here. 
Unlimited edits cover changing or adding content on your website. Custom coding involves adding new functionality. Think of it like a house. Edits are like painting the walls. Custom code is like building an addition. Learn more here.
N

24/7 Emergency Support

N

Fully Managed Hosting

N

Dedicated WordPress Manager

N

2x Cloud Backups
N

Plugin/Theme/WordPress Updates

N

Premium Plugins

M

Unlimited Edits
Everything in our starter plan, plus unlimited website edits. This plan is ideal for existing websites that regularly need content changed, updated, or added. Read more about what is included here.
Everything from our Starter Plan is also included in out Unlimited Plan!
This plan is ideal for existing websites that regularly need content changed, updated, or added. Read more about what is included here.
Unlimited edits cover changing or adding content on your website. Custom coding involves adding new functionality. Think of it like a house. Edits are like painting the walls. Custom code is like building an addition. Learn more here.
Need something that doesn't fit into a plan?
We offer custom solutions for every need.
Web Design & Development
We provide everything from custom coding in both front and back end languages, to third-party API integrations.
Email Accounts
We provide custom email accounts and administration of GSuite and Office 365 hosted email.
Domain Management
Get unlimited DNS updates and support along with annual renewals and domain privacy.
Do you offer 24/7 support?
Your website is mission-critical! Your team at WP harbor is on call 24/7, 365. We monitor your website by pinging it every 60 seconds. If it fails to respond, our team is alerted and we go to work restoring it. Our regular office hours are Monday-Friday, 9-5 pm, EST. Outside of those hours, we offer on-call text, live chat, and phone support. 
Do you offer phone support?
Yes! Absolutely! We're here to serve you via video meeting, screen share, text, and email support! Feel free to call us at 800-407-1114.
Are "unlimited edits" really unlimited?
Yes! Our unlimited edits plan includes making any edit you need to your existing website. "Edits" are changes that can be made without using custom code. This includes editing pages, adding posts, updating information, changing menu items, adding plugins, changing slider photos/info, etc. Learn More Here!
Do you have a free trial?
What makes you different? Why should I work with you?
We offer the least expensive, most reliable way for small business owners to not have to worry about their website! By all means, go compare us to our competitors. We offer the most features at the lowest price on the market.
How do you track time?
We use Toggl to track time spent working for our clients. Time is tracked to the minute. We do not round time up or charge in increments. Learn more here.
What is your response and turn around time?
We always respond to emails, texts, and phone calls as quickly as possible. Turn around time for site changes and updates depends on the work in question. For example, redesigning and launching a 30-page website takes longer than making a quick text change on an existing site. We try to complete requests on the same day whenever possible. If a website ever goes offline (for whatever reason), we consider it a mission-critical emergency and work as quickly as possible to bring it back online.
Do you offer multi-site discounts?
Do you work with 3rd party systems and integrations?
We sure do! We offer advanced API integration (SalesForce, YachtWorld, MLS) as well as simple integrations like digital marketing tracking tags.
You can send us integration codes, or send us a login using a secure link and we will actually sign in to your systems and retrieve what we need. If it integrates with your website, we'll take care of it for you.
Do you offer custom web design and development?
Yes, absolutely! You can read all about it here.
Where is your team located?
Our team is primarily based in the United States. We also have team members located around the world. The internet knows no borders.
What happens if I cancel? How Do I cancel?
If you decide you no longer want to work with us, we will transfer your files and assets over to you. Any plugins that have been added to your site as part of our service will be removed. Plugins are licensed to WP Harbor and can only be used by clients with whom we maintain an ongoing relationship. To cancel services click here.
Have Questions? Book a call with
WP Harbor Founder Chad Lawie.​
Have Questions? Book a call with WP Founder Chad Lawie.​